iJoomla Ad Agency comes with full support to
JomSocial
module positions.That means you can place any of your advertising zones right inside JomSocial!
You may also want to read about Social Targeting with JomSocial and about placing ads inside the JomSocial stream.
How to Use It:
Open iJoomla Ad Agency.
Go to Zone Manager.
Click New to create a new zone.
Fill out the title
Select one of the positions.
Fill out the rest of the fields.
Save.
Now the ads on this zone will be displayed inside JomSocial.
Screenshot:
Choose one of the available JomSocial positions for your zone.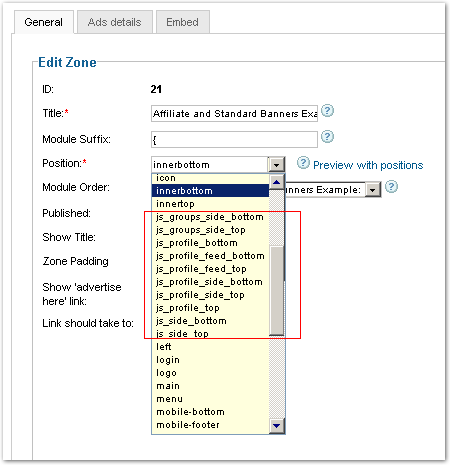 Available Module Positions
| | |
| --- | --- |
| js_side_frontpage | Placed on JomSocial home page, can replace all the modulized areas (read more about modulized home page here) |
| js_side_top | Placed before any JomSocial content on the side column of frontpage, profile page & groups page. |
| js_side_bottom | Placed after any JomSocial content on the side column of frontpage, profile page & groups page. |
| js_profile_top | Placed between the toolbar and the profile page. |
| js_profile_bottom | Placed after the profile page. |
| js_profile_side_top | Placed before any JomSocial content on the side column of profile page and after js_side_top. |
| js_profile_side_bottom | Placed after any JomSocial content on the side column of the profile page and before js_side_bottom. |
| js_profile_feed_top | Placed before the activity stream section of the profile page. |
| js_profile_feed_bottom | Placed after the activity stream section of the profile page. |
| js_groups_side_top | Placed before any JomSocial content on the side column of the groups page and after js_side_top. |
| js_groups_side_bottom | Placed after any JomSocial content on the side column of the groups page and before js_side_bottom. |