iJoomla Ad Agency supports all major ad types: Standard Banners, Flash Banners, Floating Ads, Pop-Up and Pop-Under Ads, Ad Code and Text Ads.
Text Ads
A text ad is any advertisement using text-based hyperlinks. Because they don't look like ads, text ads tend to have higher click through rates and can be completely integrated into your site's design by controlling the color, fonts, background, etc.
You may also add an image to your text ad to give it a more interesting look. We call it "Facebook style" ads because you can see these kinds of ads on Facebook.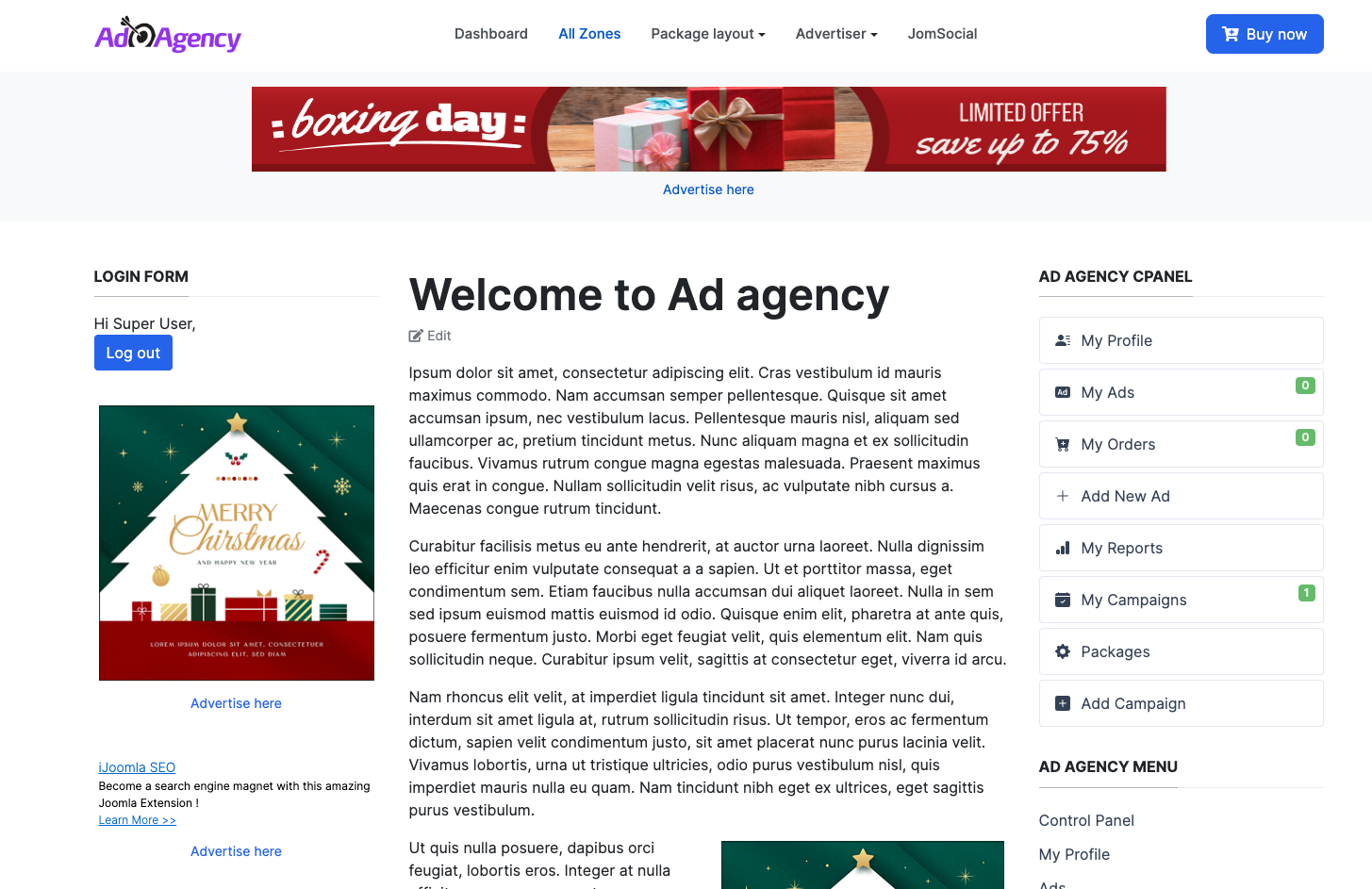 Affiliate Ads
Affiliate Ads contain code generated by a third-party such as an affiliate program. A good example is www.cj.com. You can grab banners or text ads from these third parties and add them to iJoomla Ad Agency.
Add affiliate code from any affiliate program
Use Google Ad Sense will work as well
Even if you have no advertisers yet, you can still make money from affiliates
Pop-ups and Pop-Unders
A pop-up is an ad that appears in a separate window on top of content already on-screen. A pop-under is an ad that appears in a separate window beneath an open window. Pop-under ads are concealed until the top window is closed, moved, re-sized or minimized.
3 types of Pop-ups/Pop-Unders
HTML - enter any HTML including text, links, images, etc.
Display any URL inside the Pop-up/Pop-Under
Image- choose any image to be shown inside the Pop-up/Pop-Under
Transition Ads
Transition ads are displayed over the site and take up the entire browser window. Users won't be able to see the site unless they close the ad. You can choose the transition ad background color and border, etc.
Give the ad any look and feel
Add images, text, links, etc.
Floating Ads
Floating ads appear to drift over the page, much like a pop-up but without opening a new window. You can choose the ad's size, colors, etc.
Give floating ads any look you want
Floating ads are not being blocked by browsers (unlike pop ups)
Add images, links, etc. to your floating ads
Standard Banner
The most popular and widely used form of advertising on the web. A banner is a graphic image (static or animated) most commonly used for brand awareness and generating sales leads. A standard banner uses an image in JPG or GIF format, not Flash.
HTML 5
The most popular these days and a new way to display the Ads. The HTML 5 types ad display the banner in dynamic way from submitted Ad URL
Select Which Ad Types Are Available
If you don't want to allow advertisers to add certain ad types, you can uncheck those ad types from the settings page and they won't have those options available to them.